Florry the Lorry - Es Grau - Menorca
Published: Wed 1st June 2022
---
We parked in Es Grau several times as it's close to the beach and nice walks and has a great big coach car park which is great for the lorry. Here we felt more relaxed and at times we would park up for 3 nights if it was really quiet. There are no views but it's quiet at night and not far to walk into the village or to the beach. Often horse riders meet in the car park which Rolo was rather intrigued about. He used to watch them set off in the morning through the window.
Es Grau It's a small little fishing village located on the north-east coastline near Mahon. It's set within the protected nature reserve Parc Natural de s'Albufera des Grau. There is a fence with a single rope tied around wooden posts that divides the beach at Es Grau from the dunes of the S'Albufera des Grau nature reserve. The wetland and lake here is the main reason why Menorca was made a Unesco Biosphere Reserve 20 or so years ago. There are well-marked signs for the walks along the Cami de Cavalls around (The old bridle path around Menorca) It's possible to walk or cycle right around the coast covering 116 miles.
Dogs are not allowed in the reserve itself or on the main beach but a walk through the village takes you to a little beach where we used to take Rolo for his swims when we were parked up there.
<iframe allowfullscreen="" frameborder="0" height="450" src="https://www.google.com/maps/embed?pb=!1m18!1m12!1m3!1d3069.2460873165064!2d4.267163293676799!3d39.94973237315821!2m3!1f0!2f0!3f0!3m2!1i1024!2i768!4f13.1!3m3!1m2!1s0x12be28fc0868e54d:0xb1e4c7e89eddd143!2s07701 Es Grau, Balearic Islands, Spain!5e0!3m2!1sen!2snl!4v1575222978532!5m2!1sen!2snl" style="border: 0;" width="80%"></iframe>\

---
---
Related Posts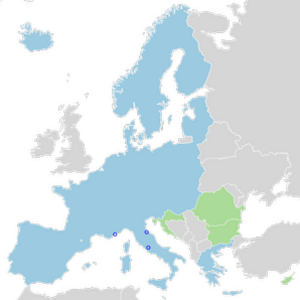 Published: Tue 19th April 2022
There has been a lot of confusion about How many days you can go away for in Europe and how people are showing a single day change giving them a lot more days, This post hopes to clear up the confusion...more...
---
---
---
---
---
---
---
---
---
---
---
---
---
---
---
---
---
---
---
---
---
---
---
---
---
---
---
---
---
---
---
---
---
---
---
---
---
---
---
---
---
---
---
---
---
---
---
---
---
---
---
---
---
---
---
---
---
---
---
---
---
---
---
---
---
---
---
---
---
---
---
---
---
---
---
---
---
---
---
---
---
---
---
---
---
---
---
---
---
---
---
---
---
---
---
---
---
---
---
---
---
---
---
---
---
---
---
---
---
---
---
---
---